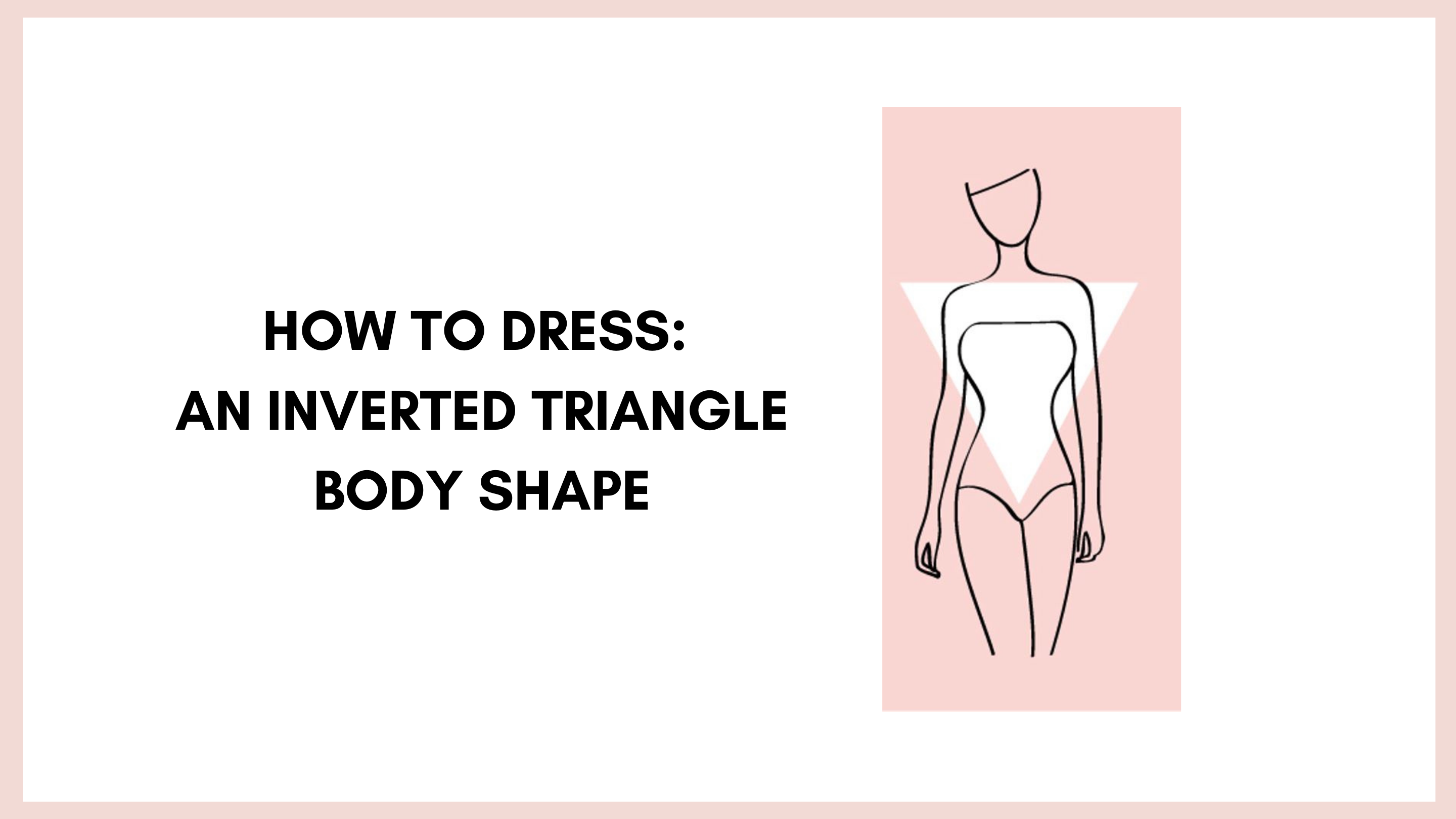 ---
Finding clothes that fit and flatter our shape is one of the best ways to boost your confidence and make you feel beautiful in your clothes everyday.
Every body shape is different, but these guides are here to help you dress your shape the best way possible to accentuate your best features and help you conceal any areas you might be a bit more self-conscious about.
If you aren't sure which shape, you are take a look at our How to Measure Your Body guide.
An Inverted Triangle body type generally has the following characteristics:
Your shoulders are the broadest part of your body in comparison to your highs and thighs
You may have a larger bust
You have narrower hips and waist
Your waist isn't as defined
You have amazing legs and/or arms
Tips for dressing an Inverted Triangle body shape
Dressing your body is all about balancing and proportions. When you are an Inverted Triangle shape your aim is to balance your broader shoulders with your narrower hips and thighs, whilst also creating and defining your waist.
If you are wanting to wear bolder colours or prints wear them on your bottom half as this will draw the eye and broaden out your hips giving the perception of a proportionate measurement between your shoulders and your hips.
You want to minimise the upper half of your body and add volume to your bottom half. Stay away from any kind of volumous sleeve or shoulder pads.
Best tops for an Inverted Triangle body shape
A 'V' neckline is a universal neckline that works wonders on so many body shapes including the Triangle. The 'V" naturally draws your eye to the middle of your chest and away from your shoulders.
A scoop neck top is also a great option for this body shape as it shows off your collarbones and will draw the eye to them instead of your shoulders.
A classic shirt will look great as again the button detailing, and collar will be the feature of this top. Note don't choose one with pockets over the bust as if you have a larger bust this will only emphasise rather than skim over and flatter.
An A-line flowy top naturally creates more volume as it falls thus helping create much volume around your hips. This is an extremely flattering cut that looks amazing on an Inverted Triangle.
A quick note about sleeve lengths
This is where you can break the rules a little bit…if you have amazing arms and love to show them then you can absolutely choose to wear a sleeveless top or even strapless. A fitted sleeve works well in balancing your proportions.
If you are curvy then a 'v' neckline or scoop will be perfect for you…if you are smaller busted then a boat neckline will look amazing but choose a block colour.
Jackets
An Inverted Triangle looks great in a jacket that hits them at their hips or mid thigh. This creates the illusion of more volume on the bottom half and equals out the broadness of your shoulders.
Choosing a cardigan or jacket with a belt is also a great option as it will also create and define your waist further too.
Bottoms
For your shape a cropped wide-leg jean looks amazing as it not only balances out your proportions but if you are on the shorter side, it will also elongate your legs too.
Boyfriend jeans are another fantastic option as they create curves in your hips and thighs.
If you are after a slimmer cut, then opt for a straight leg…this will give you shape whilst also adding volume to your lower body. In comparison to a skinny leg jean that will exaggerate your shape.
Don't be afraid to wear colour or a bolder print in a pant or skirt. They have a volumizing effect and on your shape look amazing!
Dresses
An A-line dress will flatter and skim over your body but don't choose a fabric that is too clingy. Look for something with a bit of structure to add some volume in the skirt. The natural triangle shape of the dress will complement your inverted triangle shape. Don't be afraid to go sleeveless with this dress too!
A Fit-and-flare skirt is a perfect silhouette for your body shape. Not only will it look gorgeous on you, but it will give you a gorgeous waist as well!
In terms of skirts a pleated midi length skirt is a great choice. Simple and subtle but the movement of the fabric adds a delicate layer of volume to the bottom half of your body.
Finally, accessories are items that every shape can use to add colour, draw the eye to another part of your body and change up an outfit. For your shape look to accessorise from your waist to your toes…think bangles and bracelets and bangles, heels and boots and also a belt for your waist too!
If you are looking for a necklace a longer, statement necklace to draw the eye will always be a winner!
Every body is unique so highlight your best features, wear what makes you feel beautiful and remember fashion comes and goes but style lasts forever.